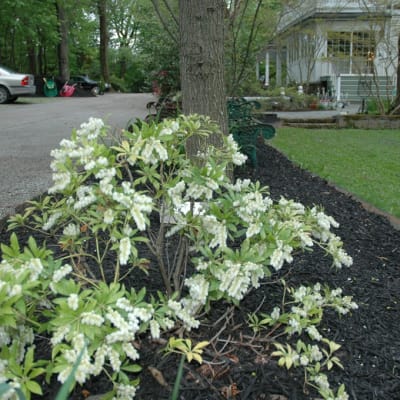 About the Bed & Breakfast Inn
Letter from the Innkeepers
We graciously welcome you to The Wayne Bed & Breakfast. This grand home was built at the turn of the 20th century and offers five well-appointed guest rooms with antique furnishings - each with a King Size Bed and Private En suite Bath. This exquisitely appointed Arts & Crafts Victorian home is elegantly situated on an acre of manicured lawns and gardens in the heart of historic Wayne.
We invite you to visit the lovely shops in our beautiful downtown area (Consult - 'Plan Your Visit'). Be sure to enjoy lunch and dinner in the finest restaurants our area has to offer within minutes of our Bed and Breakfast. Walk to the Farmers Market or Eagle Village Shops and bring home some lovely delectable or gift to remind you of your visit. Stroll through the acres of pristine garden at Chanticleer Gardens. Or within a couple of minutes of the B&B, walk to the Main Line's historic Train station, where you can enjoy a quick and direct train ride to the downtown Philadelphia shops, restaurants, and movie theatre. Along the Regional Rail line, you can also reach Villanova University, Bryn Mawr College, or Haverford College.
For those looking for some exercise, it is a lovely 10 minute walk into the heart of downtown Wayne. You can also walk along the 3 mile Radnor Nature Trail which is again within a few minutes walk of the inn. You can also drive to Valley Forge National Park for hiking, biking or to experience the history of our American Revolution.
You can stay connected with our free WiFi network for your own device or our Laptop with a Printer. When not relaxing in the gardens, the Inn is air conditioned for your comfort. We are pleased to make dinner reservations for you, suggest shops and sites in the area or assist in any way to ensure your visit to Wayne is a wonderful stay.
Welcome and Enjoy,
Traudi and Bob Thomason, Innkeepers
Wayne Bed & Breakfast Inn
PS: Hier wird Deutsch gesprochen.
We invite you to join us.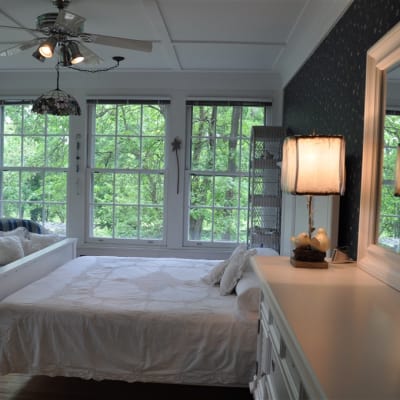 The Bed - Comfort with Allergy & Asthma Relief
While staying at the Wayne Bed & Breakfast Inn, we want you to get a great night's sleep.
To meet this goal of a wonderful restful night for you, we use the world's most advanced and medically effective allergy-barrier bedding products, CleanRest®. Anyone suffering from asthma and allergies will appreciate the high quality bedding, and for those fortunate not to have allergies or asthma, you can enjoy knowing that the best bedding available is used at this bed & breakfast.
Each of our mattresses and pillows are encased with CleanRest® covers; this fabric is made with a weave so tiny no allergen or spill can penetrate it—and so comfortable and breathable, you virtually don't know it's there. This means you will get the cleanest, healthiest sleep possible. CleanRest® features an advanced technology called MicronOne®, which offers the highest level of protection available today. It protects you from all microscopic particles since each square inch of the patented MicronOne® fabric contains about 3 billion protective pores; this creates a weave so tiny that spills won't penetrate and provides protection from micro-elements, such as allergens. CleanRest is the only encasement product on the market to feature MicronOne™ patented technology, which guarantees that no pore is larger than 1 micron. No other product can make that claim and no other bedding encasement is this effective. In addition the encasements are BPA and Lead Free, containing no VOC's or Phthalates. CleanRest® pillow and mattress encasements create the cleanest and safest sleep environment possible.
OUR SUPERIOR MATTRESSES:
We have new tempurpedic mattresses, and our guests have been raving about how much they enjoy their sleep. These foam memory mattresses provide luxurious comfort and superior support. To provide the ultimate sleeping experience, our mattresses feature three layers, each made from the highest-quality materials – and each designed to offer unique sleeping benefits. The top layer is a premium memory foam for a balanced combination of cradling comfort and gentle support. The specially sculpted middle layer provides a resilient feel that enhances support, reduces motion-transfer and improves airflow. The bottom layer of premium base delivers added stability and therapeutic support. These three layers work together to offer an unsurpassed level of whisper-soft comfort and healthful support – a difference you'll feel instantly. Because the mattress actually conforms to your body's contours, it promotes comfortably correct spinal alignment. Since it evenly distributes your body weight, you'll be free of the painful pressure points innerspring mattresses can cause. Most importantly, you'll fall asleep faster and sleep more soundly . . . and wake refreshed and re-invigorated.
One of our guests from Connecticut wrote:
Experience it yourself and visit the Wayne Bed & Breakfast Inn: a deeply restorative sleep in a peaceful, quiet room that turns every morning into a rested, re-energized fresh start.
Wishing you sweet dreams and a great night's rest!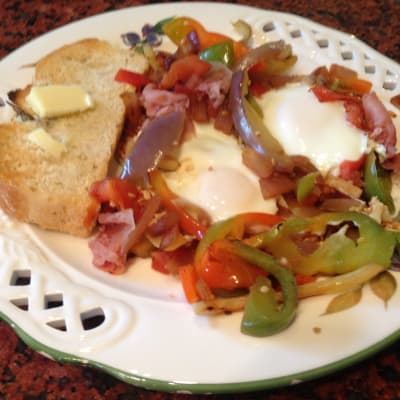 The Breakfast
Is it time for breakfast yet?
Breakfast is the spice of each morning at the Wayne Bed & Breakfast Inn. And it's included in your room rate.
Our food philosophy is simple: showcase the produce and dairy from local farms, season with inspiration from regional cuisines, serve with roasted coffee and a warm good morning. Fresh, refined simplicity — food at its best.
Wander down between 8am and 10:00am and meet the warm scent of freshly baked scones. Seating times at our communal table are agreed to — a peaceful seat in our sunny Dining Room with folk music or light jazz playing softly in the background.
Savor a cup of tea or bold, freshly brewed Wayne Bed & Breakfast Inn blend coffee and fruit as you ponder your made-to-order three or four course breakfast. Will it be Greek Omelette or a Basque Eggs? How about some decadent Blueberry Strata or inventive hash browns with fluffy scrambled eggs and ham or sausage? Maybe you'll choose the Healthy Choice option of fresh fruit, homemade granola and Greek-style yogurt or 'Bob's Steel Cut Oatmeal'.
Decisions, decisions... Each dish is made to order and delivered to you by a friendly innkeeper — a great start to a great day.
SPECIAL DIETS The Wayne Bed & Breakfast Inn offers several delicious main course options each morning — one sweet, one savory and a Healthy Choice option — from our regular menu which offers something to please everyone. Should you have special dietary needs, please let us know at the time of your reservation. We are at our best with special requests if given advance notice.
'Where you meet your next 'best friend' for the first time"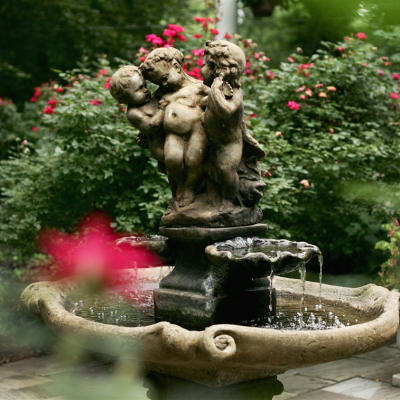 Accolades
RECOGNITION
2016 Small Business of the Year - Main Line Chamber of Commerce
Recognition Plaque - Radnor Historical Society
Trip Advisor Certificate of Excellence — 2014, 2015, 2016
Diamond Collection — of inspected luxury inns
Best of Main Line - Main Line Today
Best of Main Line - Main Line Media News
REVIEWS
Gorgeous, immaculate, comfortable
"Perfect in every way! I read many wonderful reviews on the Wayne Bed & Breakfast Inn before making our reservation, and I was not disappointed! The breakfasts were delicious and served by very delightful innkeeper. Our room was gorgeous, immaculate, and so comfortable. There were many wonderful special little touches. We most definitely recommend staying at this Inn!"BEDANDBREAKFAST.COM GUEST REVIEW
Will definitely be back
"I cannot say enough about the Wayne Bed & Breakfast Inn. I did not want to leave to go to the next stop on our trip, and I wanted to go back after we were gone! We will definitely be back!"TRIPADVISOR GUEST REVIEW
A class apart
"A class apart ... This place has pedigree. We cannot say enough positive things about it."TRIPADVISOR GUEST REVIEW
Unfussy
"If the words 'bed and breakfast' conjure up images of lots of chintz, yellowed doilies and other fussy Victoriana, think again: the Wayne Bed & Breakfast Inn has none of the above."TRIPADVISOR GUEST REVIEW
Inn hospitality at its best
"The Wayne Bed & Breakfast Inn was just as good as the rave reviews we had read before we booked. This is inn hospitality at its best by people who clearly take justifiable pride."TRIPADVISOR GUEST REVIEW
"great custom breakfast" SQUARE GUEST REVIEW